GHOST TOWNS ALONG THE TRAIL
An Introduction

By Jerry Gorman, Revised March 2018                     

The story of Albion began in 1818, when James Chewett was commissioned to survey the Township, soon after treaties were signed between the Mississauga First Nation and the Crown. A number of hamlets were scattered throughout early Albion Township; all but Bolton  have disappeared. The sites of some, like Macville, Glasgow and Columbia, have been identified with historic road signs. Others that once thrived briefly on the banks of the Humber River, like Nunnville and the more recent Humber Grove and Humber Glen are gone. They exist today in memory only, after flood, fire and changing economic circumstances caused them to pass into history. These settlements were located along the present day Humber Valley Heritage Trail and their stories represent part of our rich Humber River Heritage.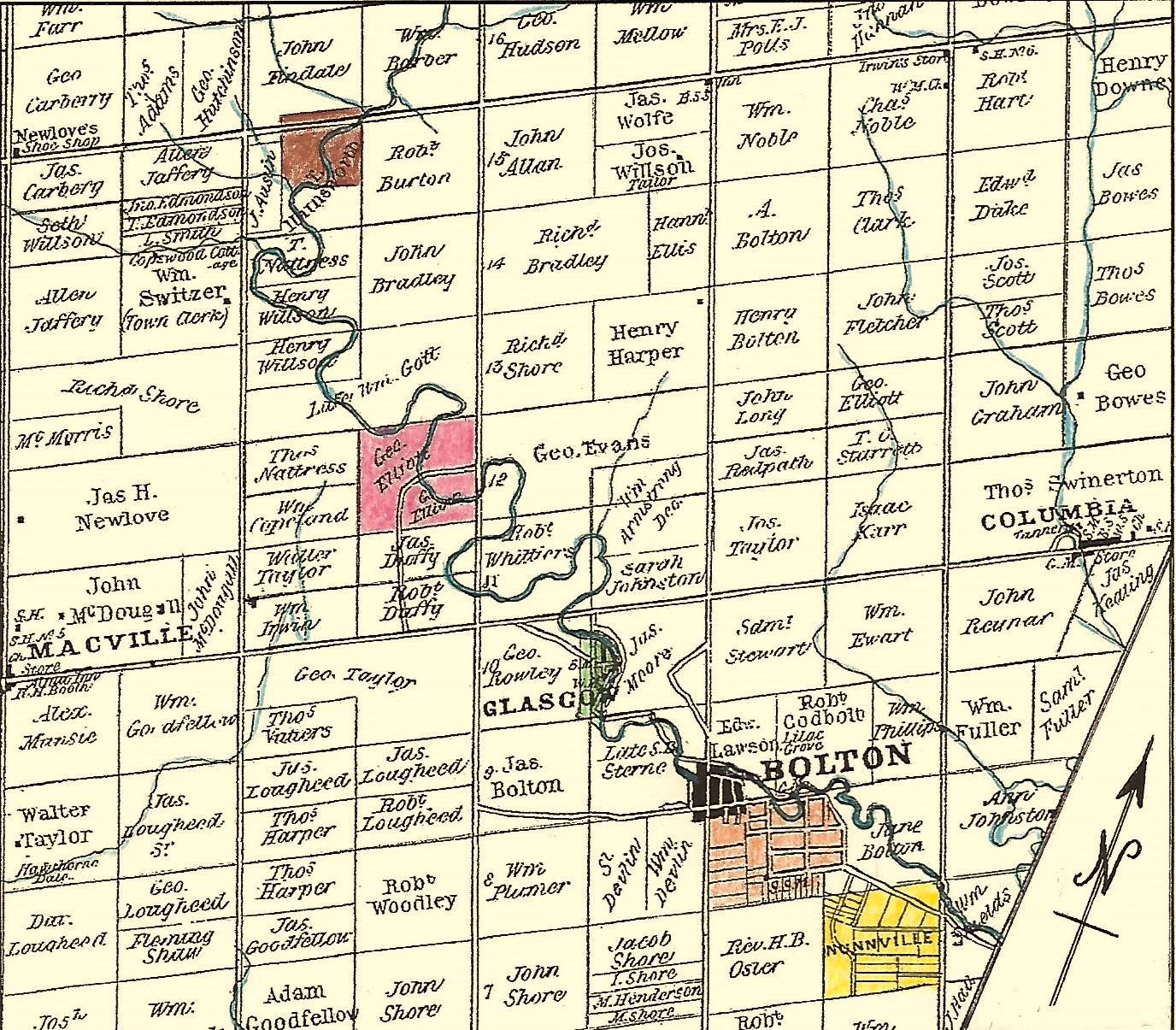 This map of Albion Township, produced by George Tremaine in 1859, identifies hamlets of the day and owners of the 100 acre farm lots in the vicinity of Bolton.  The illustrated histories that follow are of Nunnville ( yellow ), Glasgow (  green ), Humber Grove ( pink ) and Humber Glen ( brown ). Bolton's Mill is identified in black with the early expansion area in orange.
Click here to view the map in full screen
A Guide to Lots and Concessions
Immigrants arriving in Albion must have anticipated a daunting challenge to locate their homesteads in the rugged wilderness. However the systematic grid applied by the Crown Surveyors in Lower Canada facilitated their land claim. It organized the land into 200 acre blocks, divisible into 100 acre lots, each with frontage on a Concession Road, or at the very least, a survey line hacked through the bush.